I am still on vacation in the USA. You really can't get past burgers. There are burgers on every corner and in all facets. Whether with or without meat, vegetarian, vegan… Here you can simply find everything your "burger" heart desires. But burgers aren't only signature dish in the States. They are also extremely popular with us in Germany. I also regularly serve burgers at home during the barbecue season. The kids love them. And who says burgers are completely unhealthy? At least I don't, as soon as they're homemade. I never make compromises when it comes to meat. Here I always choose meat of organic quality. Of course, this also makes a big difference in taste.
In addition, all toppings such as salads and sauces can be prepared quickly. Whoever does this can even turn a supposedly unhealthy fast food recipe into something really healthy.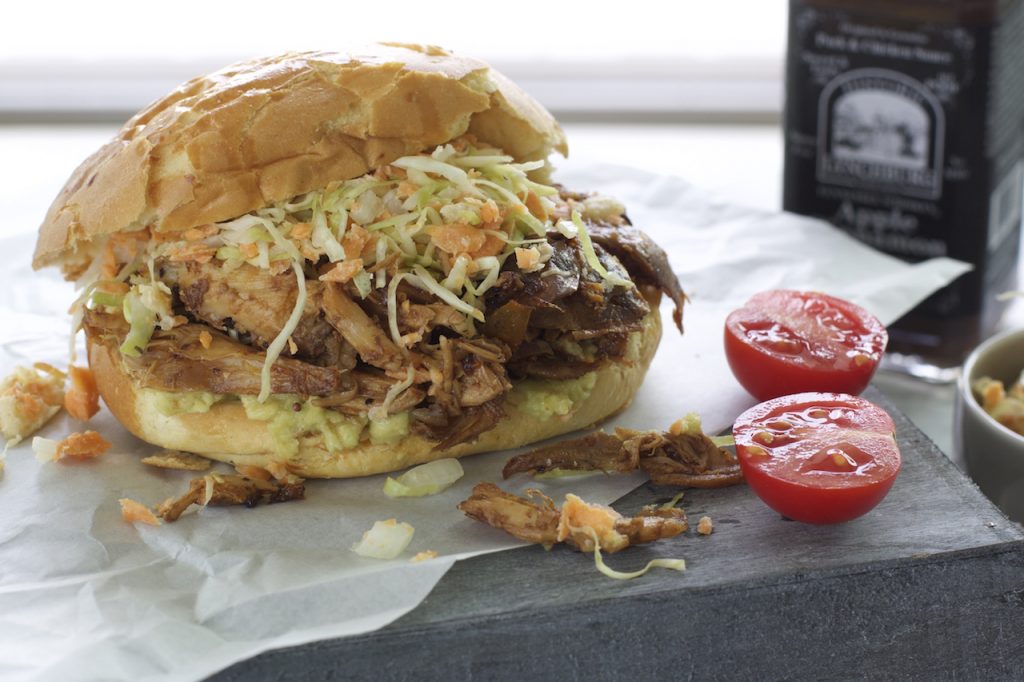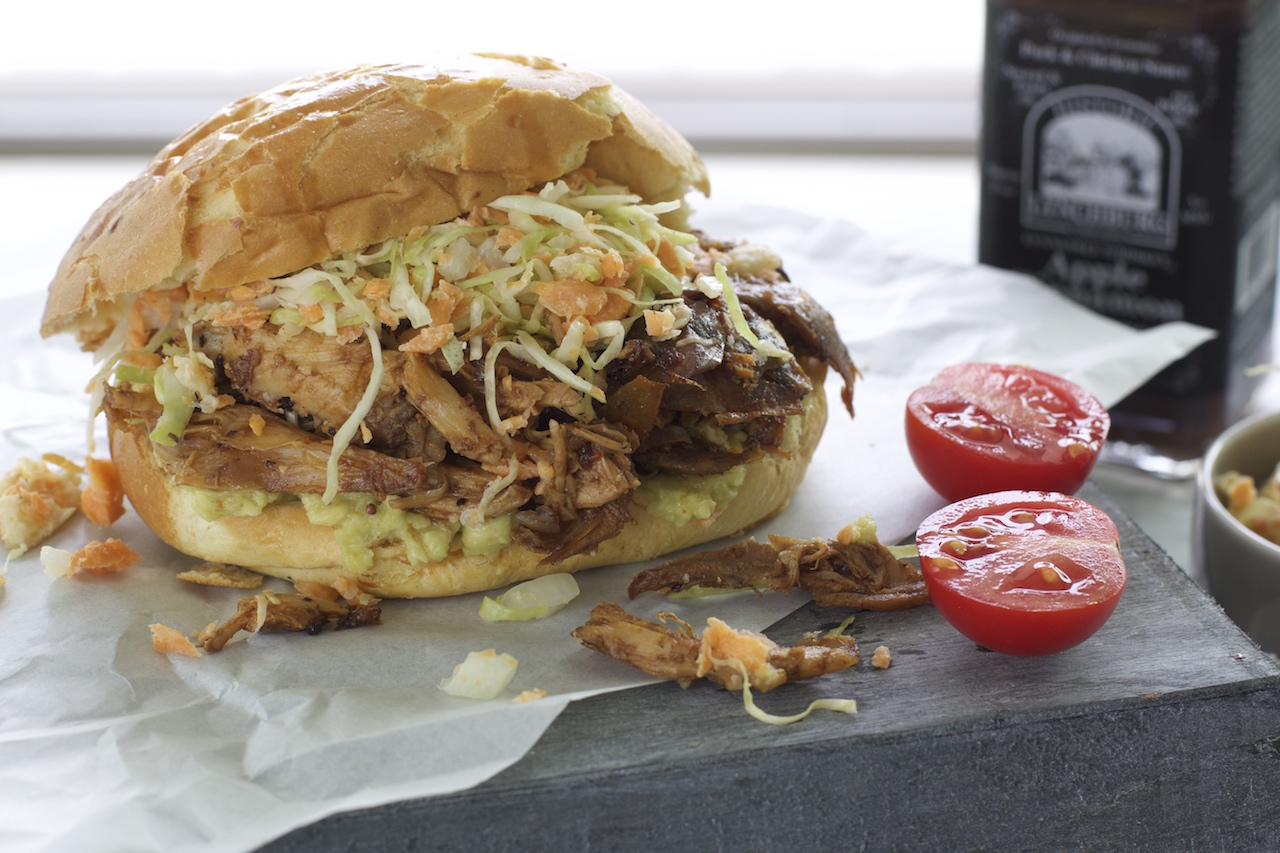 On the blog there is already a recipe for a vegetarian and vegan burger with beetroot or lentils. Today I share a delicious recipe for a Pulled Chicken Burger. In addition there is, classically American, coleslaw cabbage salad. Maybe you are familiar with pulled pork burger? In recent years, this burger version has developed into a real hype. However, preparing the meat for a pulled pork burger takes time. Since I don't eat pork at all, but still find the components very delicious, I decided on a somewhat lighter version with chicken meat. I think the version is incredibly good and I'm sure you'll love it too.
The individual parts for the recipe (Pulled Chicken, Coleslaw & Barbecue sauce) are very easy and quick to prepare. And attention! Don't let the total preparation time in the recipe put you off. Most of the time the meat grills in the oven on it's own.
In that time you have your hands free for other things, so I can recommend this recipe as a great recipe for parties and guests. I have prepared it super often for more than 20-30 people and hardly had any work in advance. The nice thing about it is that it is easy to prepare. The longer the individual ingredients last, the better they taste in the end.
By the way, I haven't found the ultimate burger bun recipe for me yet. However, I also have to admit that we have a super organic bakery on site who bakes fresh burger rolls to order. It's going to be hard for me to top the quality. But I'm still working on it and I'm sure I'll soon be able to present you with a healthy, homemade alternative. If you have a great burger roll recipe for me, give it to me. I look forward to testing it.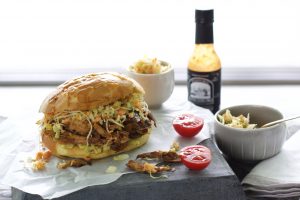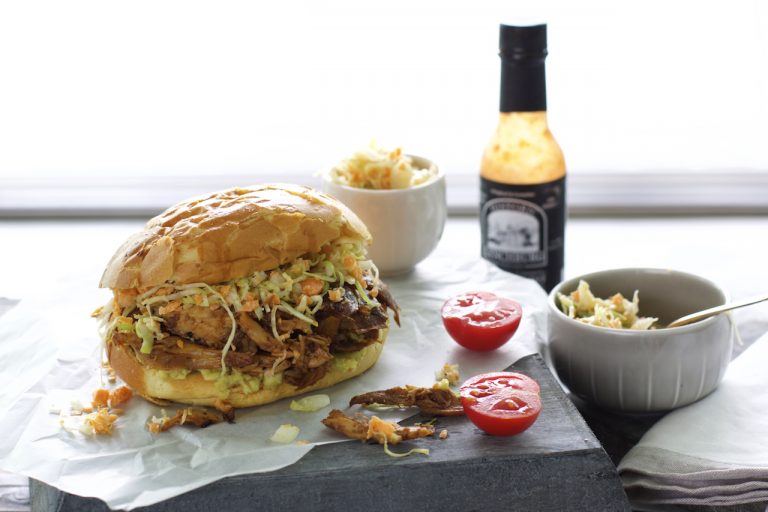 Rezept drucken
Healthy Pulled chicken with coleslaw
Zutaten
4

organic chicken legs with skin

1-2

onions

2

cloves

garlic

1.5

tbsp

paprika powder

noble sweet

1

tsp

turmeric powder

2

bay leaves

salt and pepper

3

tbsp

honey or maple syrup

1

tbsp.

liquid coconut oil

8-10

tbsp

BBQ sauce + additional sauce

1

organic lemon

Ingredients cabbage salad

Coleslaw

600

g

pointed cabbage

2-3

carrots

1

onion

100

g

Greek yoghurt

2

tbsp

olive oil

2

tbsp

cider vinegar

2

tbsp

fresh lemon juice

1

tbsp

maple syrup

salt + pepper

1/2

bunch of parsley

4-6

burger rolls
Anleitung
Preparation Pulled Chicken

Preheat oven or grill to 200 degrees. Wash off the chicken legs and pat them dry. Slice the lemon and place in a casserole dish. Mix the remaining ingredients (turmeric, paprika powder, coconut oil, honey, salt and pepper) to a marinade and spread all over the chicken legs. Put the chicken legs (with the skin side upwards) on the lemons. Cut onions and garlic cloves into rings and add them with the bay leaves.

Close the casserole dish with aluminium foil and place in the oven for approx. 1-1.5 hours. Check again and again. The skin should be nice and crispy at the end and the chicken should be soft.

After approx. 50 - 60 minutes, spread 2-3 tbsp BBQ sauce on the legs and cook to the end. If not, remove the aluminium foil towards the end of the baking process for approx. 10-15 minutes and continue baking "open" so that the skin becomes nice and crisp.

Preparation of pointed Coleslaw

Wash, clean and quarter the cabbage and remove the stalk. Cut the cabbage crosswise into thin strips. Peel and chop the onions. Peel and grate the carrots. Chop the parsley.

Mix all ingredients together. Mix yoghurt, olive oil, apple cider, lemon juice, honey, salt and pepper to a marinade and add to the cabbage-carrot mixture. Flavour the salad, put aside and let it stand.

Remove the chicken legs from the oven and let them cool. Then pluck the skin and flesh from the bones. Heat the rest of the barbecue sauce in the pot and mix with the meat at the end. Put the pulled chicken on the burgers and the cabbage on top.